Start from OneNote 2010, when you creating new notebooks, you can save notebooks to SkyDrive directly so they are available to you everywhere.
How to synchronize OneNote and SkyDrive
On your PC, open OneNote 2010.
Go to the Notebook you want to enable sync, click on File > Share
Choose your Notebook and then click on the Sign In button and enter your Live ID(aka MSN/Hotmail/XBox ID)
Once you sign in, click on the Share Notebook button in the lower right. It will upload your notebook to your Skydrive
Now notebooks will be automatically synced among different OneNote clients if they are online.
Access it anywhere – from another PC
On OneNote 2010 desktop client, click File –> Share you will find a link of the shared notebook, sent it to another pc and open it in OneNote 2010, you will be asked to sign in with Live ID.
Update at 12/1/2011, Microsoft has released a free update for OneNote 2010 which allow you to open which open OneNote documents stored in SkyDrive from OneNote 2010 menu directly, without having to navigate to SkyDrive site or going to another pc client to copy the notebook share link. The detail of the update can be viewed here.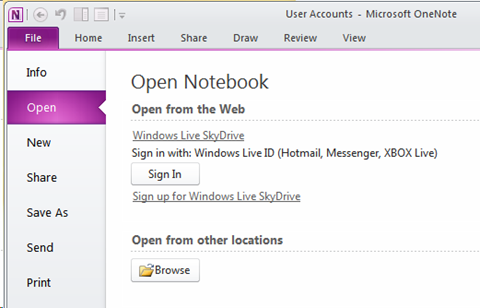 Access it anywhere – from browsers
Go to Office.live.com and sign in with your Live ID.
Access it anywhere – from mobiles
Download OneNote from App Store and install it. Sign in with your Live ID and then you start sync notebooks. Read OneNote for iPhone for more information.
Some more tips
In order to sync OneNote 2010 notebooks to SkyDrive and use OneNote Web Application, you will need have Internet Explorer 7 or later version installed.
Windows XP with IE8
Windows Vista with IE7 or IE8
Windows 7 with IE8
Also notebooks files from OneNote 2007 needs to be upgraded to OneNote 2010 file format as only 2010 format is supported by SkyDrive. You can convert old notebooks to 2010 format with following steps
File –> Info –> Setting –> Properties
Click 'Convert to 2010' button and press okay.
Update 4/25/2012 SkyDrive Release Windows Client now you can drag and drop files directly to your SkyDrive folder in Windows Explorer and view it anywhere on any device!