Last time I posted a blog talked about SkyDrive is Live with OneNote Sync which you can Sync OneNote 2010 notebooks to SkyDrive. Now you can put every files in your PC on the SkyDrive and access it from anywhere, any devices.
Earlier today, Mike Torres and Omar Shahine from Microsoft, posted a blog via the Building Windows 8 blog site announced new SkyDrive Windows desktop client release. The SkyDrive release also includes new version for several platforms including Mac OS X, iPad, Windows Phone, iPhone.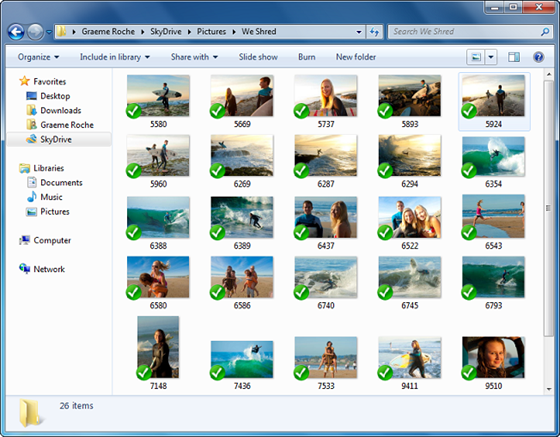 SkyDrive Windows desktop client features
Drag and drop files directly to your SkyDrive folder in Windows Explorer, just as any other files in local disk
Remotely access files using SkyDrive.com on any Windows PC that connected to SkyDrive.
Sync and view files anywhere on Windows PC, Windows Phone, Max OS, iPad, or iPhone
Let you upload big files of up to 2GB
You can download the new SkyDrive clients and apps here. Microsoft only offers 7GB free storage for all SkyDrive users. However, if you are a current SkyDrive user(as of April 22), You just need to sign in to SkyDrive site and opt in to keep your 25GB of storage, view Upgrade to 25gb free storage for detail.
Limitation of current SkyDrive Windows client
Not support selectively sync. Right now all folders and files in SkyDrive will be synced, there is no option to let user pick which folder to sync.
You need to put all files you want to sync under the single root SkyDrive folder. Live mesh allows user to sync any folder to cloud no matter where it's located. But this isn't made to new SkyDrive.
No Windows XP support. You will get error "skydrivesetup.exe is not a valid Win32 application" if you attempt to install SkyDrive Desktop client on XP.
Learn more for new SkyDrive release