When you install the Windows 8 Developer Preview on Virtual PC in 64-bit windows. Your installation would fail with the blue screen of sad:
: (
Your PC ran into a problem that it couldn't handle, and now it needs to restart
You can search for the error online: HAL_INITIALIZATION_FAILED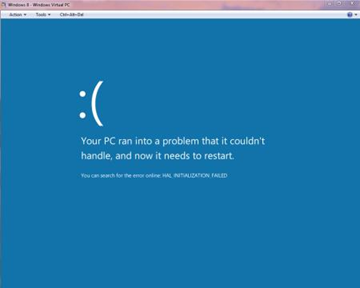 Windows Developer Preview is not supported as a guest OS on Windows Virtual PC or on Microsoft Virtual PC 2007.  If you want to run Windows 8 Developer Preview as a virtual pc, use one of following supported virtualization software.
VirtualBox 4.1.2 for Windows
Hyper-V in Windows Server 2008 R2
VMware Workstation 8.0 for Windows
Here are a few good resources I found for windows 8 setup.